THIS IS AN ARCHIVE WEB PAGE - CENTRAL HOBBIES is CLOSED
We are No longer Accepting orders.
A new store will be opening August/September 2023.
We're your one stop scale model train shop!
HOn30 Products / HOe / OO9
Central Hobbies carries a modest selection of HOn30 model railway products. Many others are available by order.
---
We stock a few HO scale narrow gauge products in HOn30 (HOn2 1/2, HOe or OO9). More can be ordered..
---
MinitrainS

MiniTrains has released updated versions of the old AHM Minitrains HOn30 models. Many new items are available and more have been announced.
MiniTrainS now has its own Web Page
---
Kato
Kato has started releasing models in OO9.
New from Kato in collaberation with Peco - 009 Ffestiniog Railway 0-4-0 Small England - "Princess".

$ 278.00 Cdn$
New from Kato in Collaboration with Peco - 009 Ffestiniog Railway 0-4-0 Small England - "Prince".

$ 278.00 Cdn$
009 Small England Mechanism only.

$ 141.99 Cdn$
Beautiful little models. Very well finished. Run smooth. The tender provides additional pickup. No idea how to get a DCC decoder in the model - yet.
---
Bachmann
Bachmann has released several models in their narrow gauge Thomas Series: Skarloey.
The Bachmann Narrow Gauge Page is: Bachmann Narrow Gauge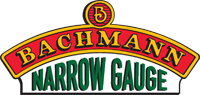 Bachmann Branchline Narrow gauge models.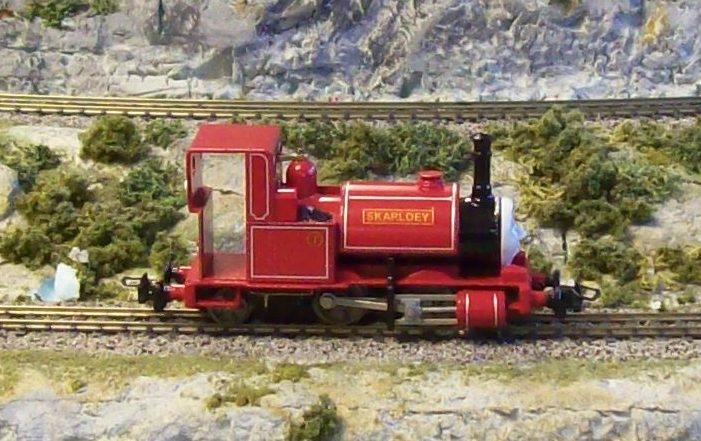 .
This good looking locomotive runs very well. It would like 11" radius curves but runs on the Peco 9" Setrack curves with no problems. Several companies offer replacement boiler fronts to replace the face.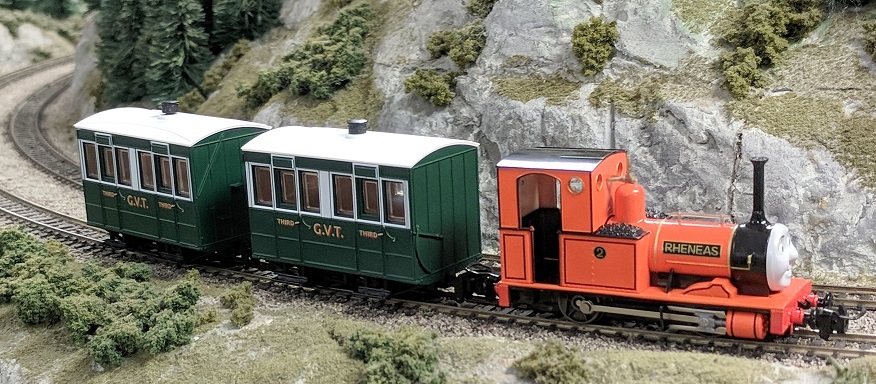 .
Rheneas with Glynn Valley Tramway Coaches.

.
Bachman has released three Slate Wagons: #101, #164 and an unnumbered wagon. They are cast metal with plastic details and have metal wheels so they have a nice weight. With a bit of work on the road numbers you could easily make six more cars (#s 1, 4, 6, 10, 16, 64) or you could decal the unnumbered car.

xx .
Here they are behind a MinitrainS Bagnall on a section of the Dixmont & Winslow Ry.
---
Peco
We have the Peco Glyn Valley Tramway cars in stock. See the Peco Web page for more information.

MinitrainS Gmeinder Diesel with Glyn Valley Tramway 4 Wheel Enclosed Side Coach, Glyn Valley Tramway 4 Wheel Open Side Coach and Freelance 4 Wheel Brake Coach without Buffers. The Gmeinder looks good pulling the cars but really needs to be a darker green. Have to see about painting one in a nice dark green. A Steam engine would be nicer.
Peco does make a body kit for the right type of locomotive.

Bachmann Skarloey with Tallylyn Railway (GVT) 4 Wheel Coach with Buffers and Freelance 4 Wheel Brake Coach with Buffers.

Bachmann Skarloey with Glynn Valley Tramway Passenger Cars on the Dixmont and Winslow mainline.



Peco has also released a series of Bogie Coaches, and four wheeled freight cars for the Lynton & Barnstaple Railway, in both the L&BR and Southern railway paint schemes. These are available to order.
---
Other Manufacturers
Check our Roco, Bemo and Lilliput Web pages for other narrow gauge products.
---
Peco makes Code 80 Light Industrial Style HOn30 Track

Left Hand 12" radius Turnout
Right Hand 12" radius Turnout
18" Radius Wye
For rail joiners use standard Peco N scale Rail Joiners.

Peco makes Code 80 OO-9 Setrack.

9" Radius Curves
9" Radius Double Curves
Straights, 3.5" long, and double straights, and a double straight with power feeders.
RH and LH turnouts. These are power routing.
For rail joiners use standard Peco N scale Rail Joiners.
ST400 OO-9 Starer set: Oval of track (single and double curves), (Standardc and Doube Straights), LH and RH turnout, Power straihgt and two buffers.

Peco makes a NEW Code 80 Main Line Style HOn30 Track.

Peco SL-404 is in stock.
Mainline Turnouts are now in stock.
Fast Tracks makes Turnout Assembly fixtures.
B&K Makes turnout kits.

Track Scratch Building Supplies

We carry Micro Engineering rail in all sizes (code 40, 55, 70, 83 and 100), all sizes of Micro Engineering spikes, Pliobond; ties from Mt. Albert, Kapler, and Campbell. We have PCB Ties, 12" long, 10 pieces for $ 8.95.
---
As HOn30 is HO Scale Narrow Gauge, any HO Scale building will work, however as these are small models, smaller buildings would be better. The small structures in the Woodland Scenics 'Scenic Details' Line would fit right in.
---
We have the full MicroTrains line of N Scale trucks and couplers.
---
We carry the full line of Kalmbach hobby books as well as books from Atlas and Carstens and others. See the Books pages for partial listings of prototype books.

We carry over 400 railroad related titles. See our book pages for a relatively up to date listing.
---
If there is a particular item you are seeking that we don't have in stock, please don't hesitate to ask for it. We will special order most anything. Items in stock at most major distributors can be obtained in a week or two. Out of stock items can be back ordered for delivery when they are produced.
Please note that if the company is outside of the major distribution channels, special orders will take some time. Many companies require minimum orders from stores (a person can often order one item at a time) so it may take a while for us to get a large enough order to send to them. In these cases we will advise you if it is faster to order direct.
---
Updated November 12, 2022
---
www.central-hobbies.com
Central Hobbies
2825 Grandview Hwy, Vancouver, BC
Canada , V5M 2E1
Phone 1-604-431-0771, Fax 1-604-431-9855
Orders Only 1-888-7TRAINS (1-888-787-2467)
Page and Contents Copyright Central Hobbies 2015 - 2023.

---