THIS IS AN ARCHIVE WEB PAGE - CENTRAL HOBBIES is CLOSED
We are No longer Accepting orders.
A new store will be opening August/September 2023.
We're your one stop scale model train shop!
Paints
Central Hobbies stocks many lines of paints. See below for current status of in production and discontinued paint lines.
---
Importing paint into Canada
Government regulations are making it difficult to import paint into Canada as few of the non-acrylic paint products meet Canadian labelling and packaging Standards.

This impacts Humbrol, Scalecoat, SolvaSet, various paint pens and various glues.

There are three issues: Labeling as to hazardous contents, Labeling as to French, and Packaging. Having obtained a set of the relevant regulations we are working through them to determine what needs to be done.
All paints with hazardous contents need to be labeled with the appropriate symbols. Warnings need to be in English and French. Packaging needs to be child proof.
---
TrueColor
The TrueColor paint line is a direct replacement for Accupaint. We stock some colours. A list of what we stock, including the Accupaint colors will be posted when time permits.
Product
Number
Description
Price
Can$
This is an incomplete list of TruColor products.
The presence of the color name in this table does not mean we stock that color.

Those colors we have in stock have a price with them.
709-005
WHITE
$ 8.95 Cdn$
709-008
GRAPHITE
$ 8.95 Cdn$
709-010
BLACK
$ 8.95 Cdn$
709-012
CHINESE RED
$ 8.95 Cdn$
709-015
THINNER
$ 8.95 Cdn$
709-020
SANTA FE BLUE
$ 8.95 Cdn$
709-021
SANTA FE YELLOW
$ 8.95 Cdn$
709-022
SANTA FE RED
$ 8.95 Cdn$
709-023
CP RAIL ACTION GREEN
$ 8.95 Cdn$
709-024
CP RAIL ACTION RED
$ 8.95 Cdn$
709-025
UNION PACIFIC ARMOUR MIST GREY
$ 8.95 Cdn$
709-026
UNION PACIFIC ARMOUR YELLOW
$ 8.95 Cdn$
709-032
CANADIAN NATIONAL ORANGE
$ 8.95 Cdn$
709-033
CANADIAN NATIONAL YELLOW
$ 8.95 Cdn$
709-034
CANADIAN NATIONAL GREEN
$ 8.95 Cdn$
709-035
CANADIAN NATIONAL RED/ORANGE
$ 8.95 Cdn$
709-039
NEW HAVEN SOCONY RED
$ 8.95 Cdn$
709-052
CABOOSE RED
$ 8.95 Cdn$
709-053
TUSCAN RED
$ 8.95 Cdn$
709-083
LEHIGH VALLEY CORNELL RED
$ 8.95 Cdn$
709-124
BC RAIL LIGHT GREEN
$ 8.95 Cdn$
709-125
BC RAIL DARK GREEN
709-155
GREAT NORTHERN GLACIER GREEN
$ 8.95 Cdn$
Inventoried - ???? NN, 2016
---
PolyScale
Production of the PolyScale Railroad colour paint line was discontinued in 2014. We have a shrinking supply of Poly Scale paint. Some colours (16) were released in the Model Master Line. We have those colours in stock.
---
TrueLine Trains Paints
When Testors RPM discontinued their line of Ploy Scale paints it also affected the True Trains Railroad paint colours. We have a shrinking stock of these paints.
Part
Number
Color
Stock Status
TLT 010005
Stencil White
In Stock
TLT 010007
C.P. Action Yellow
In Stock
TLT 010009
Morency Orange #10
In Stock
TLT 010010
Orange/Red #11
In Stock
TLT 010011
Grey #11
In Stock
TLT 010012
Lettering Grey #17
In Stock
TLT 010013
Yellow Imitation Gold
In Stock
TLT 010018
Grey #12
In Stock
TLT 010019
Red #12
In Stock
TLT 010020
Orange #12
In Stock
TLT 010021
C.N. (VIA) Blue #18
In Stock
TLT 010022
C.N. (VIA) Yellow #18
In Stock
TLT 010023
C.P.R. Steam Locomotive Grey
In Stock
TLT 010024
C.P.R. Diesel Grey
In Stock
and a few single bottles of other colours
---
Vallejo
We have the Vallejo Model Color paint rack in the store.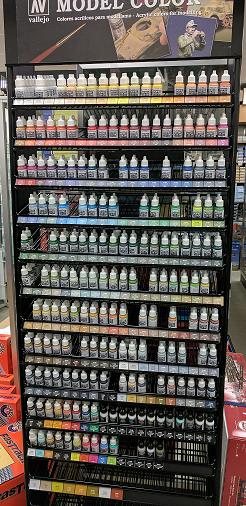 .
We now have the Vallejo Model Air Color paint rack in the store.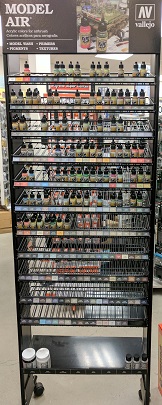 We now have the Vallejo Spray paints, Metal Colors, Diorama Effects, Surfaceprimers, Pigments, Model Wash and Weathering Effects paint racks in the store.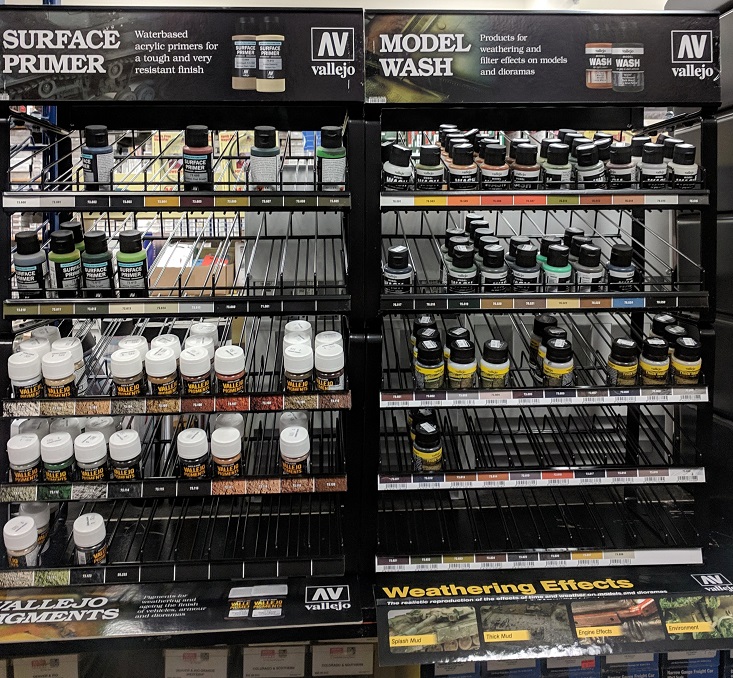 We stock the Vallejo Earth & Oxide Pigments
and the Vallejo Model Washes and Weathering Effects.
---

Vallejo also make paint in the following lines:
Panzer Aces - WWII Miltary equipment
Metal Air
Game Air
Game Color
We do not currently stock any of the above lines of Vallejo paint but can easily get them.
---
Rapido Proto-Paint is being discontinued by us. No tolerence to freezing. Questional colour fidelity.
---
ModelFlex
As ModelFlex has nor been selling well, we repurposed the space occupied by that rack.
We can obtain any Model Flex paint colour in a week to ten days. Please contact us for stock status.
---
ScaleCoat
ScaleCoat has a new owner. They are looking into the label issue to make this product legally saleable in Canada. They are adding the CN-Sig paints to the ScaleCoat product line.
---
CN-Sig Paint
CN-Sig discontinued this product last year. We have a shrinking supply of this product. These colours will be added to the ScaleCoat product line.
---
Tamiya Acrylics
The Tamiya Acrylics are very nice paint to work with. While they are not specifically railroad colours (actually Military Colours) there are many useable colours including translucent colours. Supply is good.
We now have the Tamiya Spray Paint rack in the store. Still missing a few colours.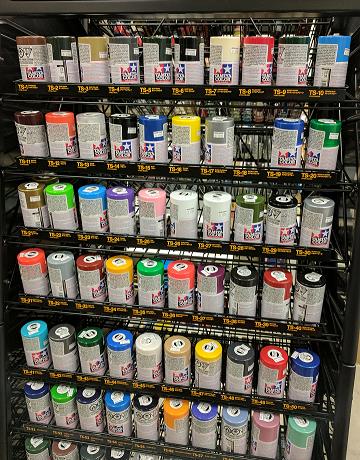 We have a selection of Tamiya Lacquers.
We now have the Tamiya Enamel rack.
---
Testors
We have the basic Testors paint rack. Since their takeover by Rustoleom, Testors has become hard to get.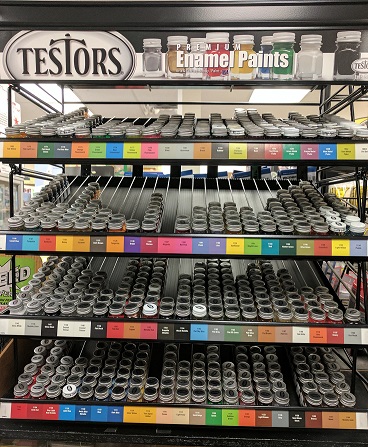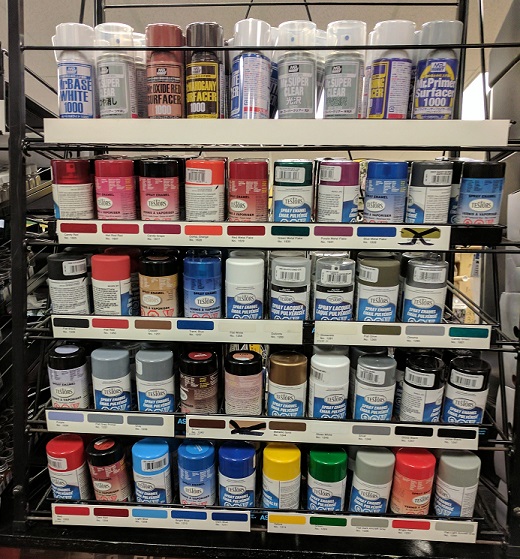 ---
Humbrol
As Humbrol has become impossible to get we have given up on this product line and no longer stock it.
---
Revell
Revell has a flat finish that replaces the Testors Dull Cote.
---
Weathering Products
As well as the Monroe Models Weathering Powders, we stock the PanPastels in singles and kits.
---
We reserve the right to correct errors and change prices without prior notice.
Please note that all prices are in Canadian Dollars.

Price list as of . . . Updated: August 16, 2022.

Back to HO products - Back to N Scale products
---
www.central-hobbies.com
Central Hobbies
2825 Grandview Hwy, Vancouver, BC,
Canada, V5M 2E1
Phone 1-604-431-0771, Fax 1-604-431-9855
Orders Only 1-888-7TRAINS (1-888-787-2467)
Page and Contents Copyright Central Hobbies 2015 - 2023.

---