Good Friday
Central Hobbies will be open short hours on this coming Good Friday, April 19, 2019.
We will be open from 11am to 4 pm.
2019 Victoria Model Train Show
The 29th Annual Victoria Model Railroad Show is in early May on Sunday May 5, 2019 at the
West Shore Curling Rink at Juan de Fuca Recreation Centre, 1767 Island Highway, Colwood.
Central Hobbies will be there. If there is anything you want brought to the show please let us know in advance.
Canadian Trackside Guide 2019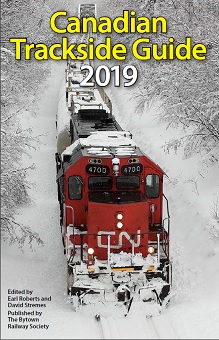 The Canadian Trackside Guide 2019 has arrived.
Digitrax News
The new Zephyr Express has arrived from Digitrax. It is a very good upgrade of the previous Zephyr Extra.
Much easier to use.

2019 Spring Model Train Shows
The Kootenay Express 2019 is May 29 - June 2, 2019 in Cranbrook, BC.
Train Sets
Train Sets are for all year long, not just Christmas.
Central Hobbies stocks Train Sets all year round.
Some of what we have is stock is on our Train Sets Web Page.
RAPIDO Icons of Canadian Steam


Rapido has announced a multi year series of Canadian Steam Locomotives. Details at: Rapido Trains Announcements Web Page and Rapido Locomotives - Hudsons
RAPIDO CPR Royal Hudson Announcements
The first release in Rapidos "Icons of Canadian Steam" release is the CPR Royal Hudson.
Details as to road numbers and model specific details at: Rapido Trains Announcements Web Page and Rapido Locomotives - Hudsons
We are taking reservations for these models now.
Delivery for these models is delayed to 2019.
RAPIDO TRAINS Announcements
Due to the large number of Rapido trains Announcements we now have a separate Rapido Trains Announcements Web Page.
Parking is available at the West end of the building and behind the building. You may use spots 1 through 20.
If you do not want to drive in Vancouver traffic don't forget you can get here easily by Skytrain.